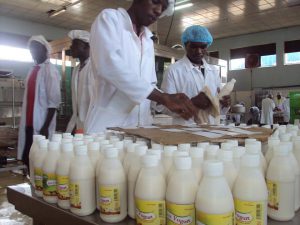 Based at the School of Food Technology Nutrition and Bioengineering, Makerere University, FONUS provides superior consulting services in the fields of food value addition, community nutrition, food handling and hygiene, post harvest handling of foodstuffs, facilitation of farmer group learning processes and project evaluations. FONUS brings a fresh and innovative approach to consulting services in the agriculture, nutrition and health sectors providing crucial information for start-up companies, community based projects and capacity building in nutrition. Our goal is to work with communities towards realization of community based solutions to the challenges encountered in the targeted sectors.
As experts in food and nutrition matters, FONUS is involved in various activities necessary for the well being of the food sub-sector ranging from feasibility studies for setting up new food processing plants, quality control and marketing of value added products as well as nutrition research and training of communities.
Typically we are engaged in training of farmer groups (innovations platforms), food product development, training of community resource persons in nutrition and value addition technologies, conducting feasibility studies for community based projects, post harvest handling of foods, offering advice on food safety, carrying out needs assessments, nutrition surveys and nutrition advice as well as production of value-added products under our slogan; "For better health and nutrition".Unlike other consulting firms, FONUS has associates with wide ranging experience in the different fields we handle. We pride ourselves with highly trained consultants who are more than happy to offer technical advice to our esteemed clients. Our technical personnel possess special experience from community outreach and the academia thus blending two unique fields.
At FONUS, we are committed to continually expanding our knowledge to assist our clients seeking to start new businesses in the food sub-sector and produce quality products. We do this by engaging in the production of high quality products from which our clients can learn. Presently we are involved in the manufacture of mineral water (Campus water), soya yoghurt, dairy milk based yoghurt, fruit flavored yoghurt, various fruit juices, high quality cassava flour and weaning foods from locally available food materials. Exceptional experience in functional and technical expertise coupled with extensive community knowledge in the agriculture/food and health sub-sector makes Food and Nutrition Solutions Ltd (FONUS) the ideal choice for a consulting firm to manage the ever increasing challenges aimed at realizing food based strategies to fight poverty, hunger and malnutrition at community level.